Annals of Burns and Fire Disasters - vol. XIV - n. 1 - March 2001
EXPERIENCE WITH EARLY TANGENTIAL EXCISION IN THE MANAGEMENT OF DEEP DERMAL BURNS ON THE DORSUM OF THE HAND
Fadaak H.A.
Division of Plastic Surgery, King Fahd Hospital of the University, AI-Khobar, Saudi Arabia
---
SUMMARY.Thermal injury of the hand deserves special consideration because it affects not only the patients' functional capability but also their long-term rehabilitative potential. The aim of treatment in dorsal hand injury is to restore wound coverage and movement within 14 days of injury, in order to avert sequelae. Early tangential excision and skin grafting coverage on deep dermal burns on the dorsum are predictably successful in restoring function in both the short and the long term. Since 1990 the author has practised this method for treating the burned hand. A total of 27 hands in 19 patients were available for treatment. The age of the patients ranged between 6 and 45 yr, with a male preponderance. Tangential excision and grafting were carried out during the second week post-burn in the majority of patients, mainly because of the severity of burn in terms of body surface area, which necessitated prolonged stabilization. There was partial graft loss in five hands, while none developed infection. All the patients were followed up for at least six, months, and at the end of one year eight hands were available for review. The grafted hands showed excellent recovery of early function and nearly normal appearance and feel; the patients had good compliance with physiotherapy and an early return to work.
Introduction
Early tangential excision in burn management is now an established practice.` It has opened up better prospects for burn victims in terms of improved survival rates and good cosmetic results. The burned hand represents a special area, where the approach for ideal management is controversial. It remains a challenge to the treating surgeon if both the cosmetic result and full hand function, coupled with an early return to work, are to be achieved. A precise estimate of burn depth, which at times can be difficult, is essential for planning the most appropriate management of the burned hand.' Superficial burns, which heal within two weeks, are nearly always treated conservatively, while full-thickness burns require surgical intervention at the most appropriate time. Controversy remains as regards deep dermal burns and burns of indeterminate depth, particularly in the dorsum of the hand. It has been suggested that hand function is well preserved when burns of uncertain depth are treated expectantly.' Regarding this particular group of deep dermal burn the literature is uncertain as to the ideal approach. The conservative approach, as well as early excision, have both been tried in such cases but the results have not helped to formulate a definite policy. The modality of treatment adopted remains mostly a matter of personal preference. A thermal burn affects the hand through two mechanisms: 1. impaired circulation; and 2. infection. Immediate excision has been claimed to be the best therapeutic measure as far as compromised circulation is concerned. The purpose of this paper is to describe eight years of the author's personal experience in treating deep dermal burns of the dorsum of 27 hands by early tangential excision and immediate split-thickness skin grafting.
Patients and methods
Between 1990 and 1997, deep dermal burns of the dorsum of 27 hands in 19 patients were seen in this hospital in Saudi Arabia. Early tangential excision and grafting, performed by the author, were the preferred method of treatment in all of the patients. In eight patients both hands were involved. Males (14) outnumbered females (5) and the age varied between 6 and 45 yr. The most extensive associated total body surface area (TBSA) burn was 65%. All nineteen patients underwent tangential excision of burned tissue and skin grafting. Seven hands were grafted within the first week, while the remaining 20 were treated in the second week post-burn. The procedure was always performed under endotracheal general anaesthesia, using a tourniquet (Fig. 1). Repetitive slices of necrotic burned tissue were carefully removed from the dorsum of the hand until viable tissue was reached, when minute but vigorous bleeding points were seen, which when swabbed revealed a glistening, almost porcelain-white bed, denoting viability and readiness to accept graft. Before the tourniquet was released the hand was wrapped in warm saline-soaked sponge dressing, and pressure was applied for at least ten minutes to stop the bleeding. In the meanwhile the skin graft was harvested from the thigh. The temporary pressure dressing was released, the recipient area was irrigated free of clots, and complete haemostasis was ensured before the sheet graft was applied. The graft was perforated at a number of sites and fixed to the dorsum with staples. The hand was dressed in a functional position with paraffin gauze, and a voluminous dressing was applied. The dressing was removed on day 5 post-operation and the graft was inspected for take. Physiotherapy and functional exercise were initiated only 3-5 days later, after the initial postoperative dressing.

Fig. la - Deep dermal burn on dorsurn of right
hand on operating table before tangential excision.
Fig. 1b - Viable level on the dorsum after tangential excizion with a dermatone. Dermabrader was used for the finger
Fig. lc - The sheet of split-thickness
skin graft applied after secure haemostasis.
Results
In three hands there was only partial take of the graft because of inadequate excision of the necrotic tissue. A haematoma collecting beneath the graft accounted for another two incomplete takes. Thus a total of five hands had an incomplete graft take. There was no infection in the grafted or donor area. No significant scar contracture preventing functional use of the hand was seen in this series. In one patient with partial graft take, a hypertrophic scar was observed that necessitated excision and re-grafting. Interdigital web space correction by M-plasty only, without any need of skin graft, was required in four patients late in the follow-up (Fig. 2).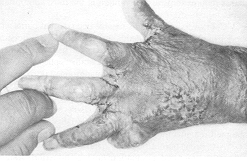 Fig.2 - One of for hands seen on follow-up for
interdigital web space correction. M-plasty
was performed without need of skin grafting
All the cases were seen during follow-up six months post-operatively, while only eight hands were seen and were available for follow-up at the end of one year. The graft was observed to be soft and supple, and graft elasticity was good. The subcutaneous tissue was pliable and the hand looked and felt nearly normal (Fig. 3). No tourniquet paralysis was encountered.
Although a detailed study of the movements of the various joints was not performed, the patients were quite satisfied with the range of movement of their fingers postoperatively.
| | |
| --- | --- |
| | |
| Fig.3a - Dorsum of hand presenting almost normal look and feel. | Fig.3b -Normal function and almost full flexion and extension, with good elasticity of skin graft. |
Discussion
A total number of 835 cases of burns were seen during a 15-year period in the Burns Unit of our hospital. The results of treatment were recently analysed, and it was gratifying to note a mortality rate of only 5.9% 5 Early tangential excision and grafting were liberally practised in our burn unit wherever indicated, and this contributed to a shorter hospital stay and a lower mortality rate. While this method of treatment is now well established worldwide in burn units for body burns, its use in hand burns remains controversial. Burke et al."' showed that early excision and grafting in hand burn injuries in children shortened hospitalization and reduced morbidity. There was also an apparent superiority in the quality of the functional outcome of burned hands so treated. Conversely, Salisbury' and Labandter,9 in studies comparing excisional therapy with non-operative treatment in severely burned hands, found no difference in outcome between the two modalities of treatment when only long-term functional outcome was considered.The principle of early excision and grafting combined with adequate early physiotherapy and the use of pressure garments gives favourable results in the treatment of burned hands.'°" The practice of managing burned hands of deep dermal or indeterminate type in this unit has been in accordance with the preferences of the treating consultant. Most times these cases were treated conservatively, especially when the condition of the patient was critical owing to extensive burns. During this conservative management, delayed unstable healing, blister eruption, and fissuring were noticed, mainly on the fingers, which delayed rehabilitation and also caused patient discomfort. When early excision was performed the outcome was different: the results were better and more acceptable to the patients, healing time was shorter, and there was no blistering or fissuring on graft-covered areas. The skin graft was applied as a sheet in all cases, which eliminated the irregularities of mesh graft and gave better cosmetic results. Early excision of the burn eschar before wound contamination may be a factor in the prevention of infection, delayed wound healing, and scar formation with its incapacitating sequelae and non-aesthetic appearance. Levine et al. 12 found that early tangential excision of the hand in patients with 40% TBSA burns or less had significantly better hand function and recovery than patients sustaining burns in more than 40% TBSA, and recommended early tangential excision with skin grafting for deep dermal burns of the hands in all patients with small to moderate thermal cutaneous injury. However, they cautioned that patients with life-threatening thermal injuries should be selected for this procedure only after careful evaluation. Five of the 19 patients in this cohort had more than 40% TBSA burns, the maximum being 65%. In these five patients the surgical procedure was delayed to the second week post-burn. These patients' compliance with physiotherapy was unfortunately not up to the desired level. Also, two patients in this group suffered partial graft loss owing to haematoma under the graft. The group is however too small to draw any conclusion regarding timing of excision.
Barillo et al." and Salisbury" emphasized that treatment protocols with a time goal for the management of burned hands are essential for integrating team efforts and achieving optimal results. Tilley, McMahon and Shukalak" advocated a concerted team approach for a satisfactory functional outcome following burn injury. Adherence to a standard hand burn protocol resulted in timely wound coverage and the recovery of hand function for a large group of patients treated at a single burn facility after a mass casualty. Using early excision and dermabrasion in the interdigital spaces, Magliacani et al." found almost complete restoration of function with the aid of only minimal surgical correction, most often only in the interdigital spaces. Excision with a dermatome on the dorsum of the fingers is difficult, and there is the risk of injuring the tendons. We use a dermabrader on the fingers for fear of injuring the rather superficially located tendons and their expansions (Fig. 4).
Fig.4a - Hand with skin graft applied before on the dorsum but not on the fingers. Cracking, blistering, and delayed healing over the fingers, necessitating grafting. The graft is seen after application to the fingers after dermabrasion on the surface

Fig.4b - The two hands seen on 6-month follow-up.
Good function and stable, secure healing with only mild
hypertrophic scarring, flattening with time.
Tangential excision should always be carried out under a tourniquet. Reluctance to use this technique, for fear of the difficulty of judging the depth of excision, is not a valid argument since one can always see the punctuate bleeding spots when viable tissue has been reached." At the same time the colour of the wound base is clearly visible, providing further evidence when the excision has reached the desired depth. A Laser Doppler flowmeter to measure cutaneous microcirculation, in order to provide an immediate result for early determination of burn depth, has been shown to be an effective and accurate method of determining burn wound depth." Its availability should encourage surgeons to adopt tangential excision and grafting as a preferred method of treatment.
Tangential excision is ideally recommended during the first five days post=burn in order to reduce the risk of infection due to contamination. In this series most of the patients were operated on in the second week, and no difference was noticed as regards the incidence of infection and/or ultimate results. Although this finding is not consistent with the current concept, van Zuijlen et al.' also found no relationship between the post-burn day of operation and long-term hand function. Objective criteria for the assessment of hand function have been described by Jackson,' but these were not used to judge function in this series. Clinical evaluation combined with patient satisfaction was deemed to be significant in assessing the return of function.
It is the author's belief that unless there are special contraindications tangential excision for deep dermal burn of the dorsum of the hands should be encouraged at the appropriate time. The primary advantages are rapid healing time,a satisfactory range of movement, and a better cosmetic appearance, with a nearly normal feel of the dorsum of the grafted hand.


Acknowledgement. The author would like to thank Prof. Dilip Mitra for his useful editorial suggestions and advice.
RESUME.Les lesions therrniques de la main mdritent une attention particuli6re non settlement parce qu'elles reduisent la capacite fonctionnelle du patient mais aussi a cause des problemes pour ce qui conceme les possibilitds de redducation a long terme. Le traitement des ldsions dorsales de la main se propose d'obtenir la couverture des lesions et la mobilite entre 14 jours apres 1'accident, pour eviter les sequelles. Depuis 1990 1'Auteur utilise la methode qu'il decrit pour traiter les mains brnlees (27 mains dans 19 patients). L'age des patients variait entre 6 et 45 ans, avec une majorite de patients males. L'excision tangentielle et la greffe ont ete effectudes pendant la deuxieme semaine apres la brulure dans la plupart des patients, principalement a cause de la severite de la brulure (surface corporelle totale), qui ndcessitait une stabilisation prolongee. Cinq mains ont subi une perte partielle de la greffe. Aucun cas d'infection n'a ete observe. Tous les patients ont ete suivis pour au moins six mois, et apres un an il dtait possible de rdexaminer huit mains. Les mains greffdes montraient une excellente reprise de la fonction precoce, un aspect et une sensation au contact presque normal, avec un bon rapport vis-a-vis de la physiotherapie et un retour precoce au travail.
---
BIBLIOGRAPHY
Janzekovic Z.: A new concept in the early excision and immediate 12.grafting of burn. J. Trauma, 10: 1103, 1970.
Jackson D.M., Stone P.A.: Tangential excision and grafting of burn.The method, and a report of 50 consecutive cases. Br. J. Plast. Surg., 13.25: 416, 1992.
Van Zuijlen P.P., Kreiss R.W., Vloemans A.F., Groenevelt F., Mackie D.P.: The prognostic factors regarding long-term functional outcome of full-thickness hand burns. Burns, 25: 709-14, 1999.
Brcic A.: Primary tangential excision for the hand burns. Hand Clinics, vol. 6, no. 2, May 1990.
Fadaak H.A., Ballal S.G., Hegazi M., Al-Hoqail R., Al-Awad N.: Analysis and outcome of 835 burn injury admissions to the burn unit, King Fahd Hospital, Al-Khobar, Saudi Arabia. Ann. Burns and Fire Disasters, 12: 197-9, 1999.
Burke IF., Bondoc C.C., Quinby W.C. et al.: Primary surgical management of the deep burn hand. J. Trauma, 16: 593-7, 1976.
Burke J.F., Bondoc C.C., Quinby W.C.: Primary burn excision and immediate grafting. A method of shortening illness. J. Trauma, 14: 389-95, 1974.
Salisbury R.E., Wright P.: Evaluation of early excision of dorsum burn of the hands. Plast. Reconstr. Surg., 69: 670-5, 1982.
Labandter H., Kaplan I., Shavitt C.: Burns of the dorsum of the hand, conservative treatment with intensive physiotherapy vs tangential excision and grafting. Br. J. Plast. Surg., 29: 352-4, 1976.
Mahler D., Benmeir P., Ben Kar et al.: Treatment of the burned hand: Early surgical treatment (1975-85) vs. conservative (196474). A comparative study. Burns, 13: 45-8, 1987.
Krezek M., Robbe M., Bilterysl, Vandenbussche F.: Treatment of 100 burned hands by early excision and skin grafting. Ann. Chin Main., 1: 125-36, 1982.
Levine B.A., Sirinek K.R., Peterson H.D., Pruitt B.A, jr.: Efficacy of tangential excision and immediate autografting of deep second degree burns of the hands. J. Trauma, 19: 670-3, 1979.
Barillo D.G., Harvey K.D., Hobbs C.L., Mozingo D.W., Ciotti W.G., Pruitt B.A., jr.: Prospective outcome analysis of a protocol for the surgical rehabilitative management of burns to the hands. Plast. Reconstr. Surg., 100: 1442-51, 1997.
Salisbury R.E.: Reconstruction of the burned hand. Clin. Plast.Surg., 27: 65-9, 2000.
illey W., McMahon S., Shukalak B.: Rehabilitation of the burned upper extremity. Hand Clin., 16: 303-18, 2000
Magliacani G., Bormioli M., Carutti V.: Late results following treatment of deep burns of the hands. Scand. J. Plast. Reconstr. Surg., 13: 137-9, 1979.
Xue-Wei Wang, Yung-Huasun et al.: Tangential excision of eschar for deep burns of the hand: Analysis of 156 patients collected over 10 years. Bums, 11: 92-8, 1994.
Park D.H., Hwang J.W., Jang K.S., Han D.G., Ahn K.Y., Baik B.S.: Use of laser Doppler flowmetry for estimation of the depth of burns. Plast. Reconstr. Surg., 101: 1516-23, 1998.
Tredget E.E.: Management of the acutely burned upper extremity. Hand Clinic, 16: 187-203, 2000.
This paper was received on 3 October 2000.

Address correspondence to: Dr Hussein A. Fadaak, PO
Box 2903, Al-Khobar 31952, Saudi Arabia.
---