Annals of the MBC - vol. 2 - n'2 - June 1989
ANALYSIS OF BACTERIOLOGICAL MONITORING IN PATIENTS AT THE PALERMO BURNS CENTRE: A FIVE-YEAR EXPERIENCE
Pezzino T., Cucchiara B., Vitale R., Benigno A., Cucchiara P., D'Arpa N., Pirillo E.
Divisione di Chirurgia Plastica, Ospedale Civico, USL 58, Palermo, Italia
---
SUMMARY. With regard to the five-year period 1982/87 an analysis was made of the evolution of the bacterial strains in swabs from burn patients and of any possible links between them. The results show that the micro-organisms most frequently observed were Staphylococcus spp. and Pseudomonas spp.. The infections caused by Staphylococcus spp. in 1982 accounted for more than 60% of the total number, reducing in successive years until 1985 (less than 40%), and stabilizing in the two years 1986/87 at about 41%. Pseudomonas spp. had its highest infection level (about 30%) in the two-year period 1982/83, and a minimum in 1984 (about 20%), while between 1984 and 1987 there was an increase in infections with opposite values compared to those of Staphylococcus spp. The frequency of Enterobacteriaceae was low, unlike that of the Corynebacterium spp, which appeared to be expanding and developing a marked resistance to antimicrobial agents; they were thus the cause of worrying in~ections.

Introduction

The use of wide-ranging antibiotics, the growing resistance of numerous micro-organisms, and the use of invasive diagnostic techniques have combined to give rise in hospitals to infections caused by infective agents previously considered unusual. Nosocomial infections are now clearly in a phase of expansion, as testified by statistical findings, and particularly in intensive care units. The aim of this paper is to analyse the variations in the frequency and the type of germs isolated in bum swabs taken from patients in the Palermo Civic Hospital Bums Centre.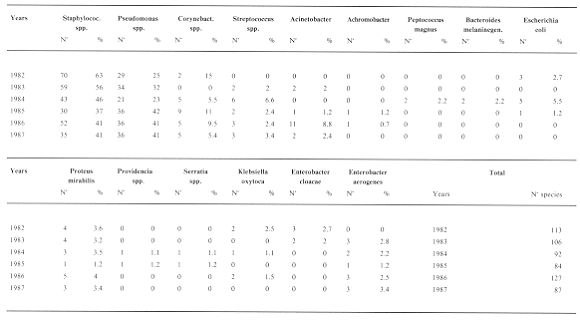 Tab. 1 - MICRO-ORGANISM ISOLATED IN THE YEARS 1982-87
Materials and methods
The analysis concerns bacteriological tests carried out on bum swabs between 1982 and 1987. The first topical treatment that all patients arriving in our Bum Centre undergo consists in the cleansing of the bum areas with physiological solution and antiseptic solutions based on cetrimide and chlorhexidine. Subsequent treatment is directly correlated to the type of bum sustained.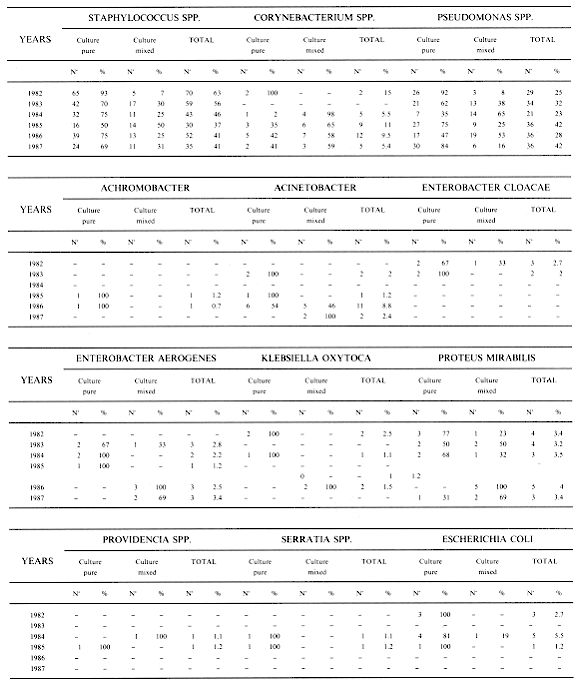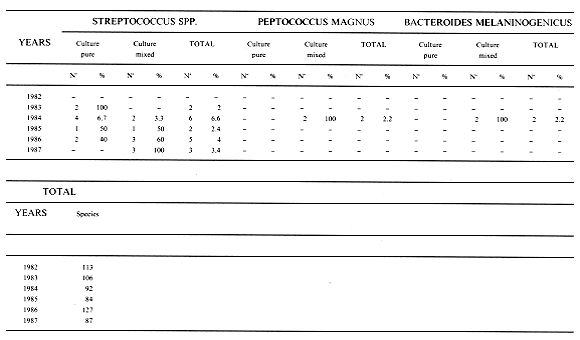 Tab. 2 - MICRO-ORGANISMS ISOLATED IN THE YEARS 1982-87 WITH PARTICULAR REFERENCE TO THE PURE AND THE MIXED CULTURES
SUPERFICIAL BURNS
The first swab is taken on admission; the burned areas are then cleansed and covered either with ordinary vaseline gauze or with amniotic membrane frozen in liquid nitrogen at -196 'C.
Swabs are then taken every other day and topical antibiotic therapy may be initiated on the basis of antibiograms.

Tab. 3 - MICRO-ORGANISM IN PURE CULTURE ISOLATED FROM BURN-WOUND SWABS
INTERMEDIATE BURNS
The topical therapeutic protocol - similar to that for superficial burns - may be varied with the use of proteolytic substances such as 10-15% salicylate vaseline and collagenase from day 3 or 4.
FULL-THICKNESS DEEP BURNS
In these cases swab-taking, again every other day, is initiated after excision of the eschars. Should this not be possible, 20-25% salicylate vaseline is used as an alternative.
Also in this case, any topical antibiotic therapy is applied after selecting the antibiotic on the indication of the antibiograms.
Patients are given antibiotic therapy by a general approach only in the event of initial signs of septicaernia or in cases when required by an organ pathology.
Cultures are obtained using both enriched and selective media. In particular we used:
5% agar-blood, Mueller-Hinton, Hektoen agar (selective for Gram-negatives), in the search for aerobic bacteria
5% agar-blood, Wilkins agar, Wilkins agar plus kanamycin and vancomycin, for anaerobic microbes. In order to identify the micro-organisms isolated we proceeded first with a microscopic observation of their morphology and tinctorial features, and then, if necessary, with the following biological tests:
sugar fermentation (glucose, lactose, sucrose) mannitol utilization lysine decarboxylation urease production sulphurated hydrogen production indole production.
The production of sulphurated hydrogen and indole, together with the possible mobility of the aerobic micro-organisms in question, were inferred using the SIM medium.
Sometimes the above-mentioned biochemical tests are not sufficient to identify the micro-organisms precisely: in these cases we performed additional tests in order to study other metabolic and growth features of the micro-organism so that we could better assess it. Samples from the same patient giving identical results have been excluded from the total number of cases examined.
Results
Altogether 15 different micro-organisms were isolated (Tab. 1): Staphylococcus spp., Pseudomonas spp_1 Corynebacterium spp.. Achromobacter, Acinetobacter, Enterobacter cloacae, Enterobacter aerogenes, Klebsiella oxytoca, Proteus mirabilis, Providencia spp., Serratia spp., Escherichia coli, Streptococcus spp., Peptococcus magnus, Bacteroides melaninogenicus.
A more accurate analysis of the results (Tab. 2) shows that the most frequently occurring micro-organisms, though with slight annual oscillations, were Staphyloccoccus spp., and Pseudomonas spp.: '
1982 - out of 113 strains isolated, 70 were Staphylococcus spp. (63%), and 29 Pseudomonas spp. (25%).
1983 - out of 106 strains, 59 were Staphylococcus spp. (56%), and 34 Pseudomonas spp. (32%).
1984 - out of 92 strains, 43 were Staphylococcus spp. (46%), and 21 Pseudomonas spp. (23%).
1985 - out of 84 strains, 30 were Staphylococcus spp. (37%), and 36 Pseudomonas spp. (42%).
1986 - out of 127 strains, 52 were Staphylococcus spp. (41%), and 36 Pseudomonas spp. (28%).
1987 - out of 87 strains isolated, 35 were Staphylococcus spp. (41%) and 36 Pseudomonas spp. (41%).
A further analysis of the percentages of the micro-organisms found in the pure medium and the mixed medium enables us to observe that the first kind prevails; we thus concentrated on these in order to examine the evolutional pattern of the micro-organism. This examination (Tab. 3) shows that the Enterobacteriaceae or anaerobic bacterial species (such as Peptococcus magnus or Bacteroides melaninogenicus) in the single years were always numerically insignificant if their percentages are compared with those of Staphylococcus spp. or Pseudomonas spp. If the field of observation is restricted to just a few of the mirco-organisms isolated, it is possible to deduce the relationship between them (Fig. I and Fig. 2). The most significant percentage is that of Staphylococcus spp.; the infections caused by this microbial agent tended to diminish until 1985; they then increased and stabilized at 41% in the two-year period 1986-1987.
The Pseudomonas curve pattern shows a greater isolation rate in the two-year period 1982-1983, a decline until 1984, and between 1984 and 1987 a series of oscillations that are exactly contrary to those of the isolation rate of Staphylococcus spp. in the same years. In particular, Staphylococcus aureus was the most represented (Tab. 4) among the Staphylococci. A comparison between Enterobacteriaceae and Corynebacterium spp. (Fig. I and Fig. 2) indicates that the latter, besides being in a state of expansion, show a marked resistance to antimicrobial agents, which makes them the cause of worrying infections.
The Enterobacteriaceae, on the other hand, have a very slight influence in our survey (Tab. 5). The absolute minimum was reached in 1984 with 0.8%, relative to the Klebsiella oxytoca species, Serratia marcescens and the Providencia spp.; the maximum levels were recorded in 1986 (the Proteus mirabilis species) and 1987 (Proteus mirabilis and Enterobacter aerogenes, which reached 5%).
The relationships between the Enterobacteriaceae and the Corynebacterium spp. are comparable to those described for Staphylococcus spp. -Pseudomonas spp.
Discussion and conclusions
Nosocomial infections are an expanding phenomenon (10, 11, 14), especially in bum patients and, sometimes, those with immune deficiency. An overall analysis of our survey shows that in this respect there are two "classes" of micro-organism:
micro-organisms which are mainly the cause of nosocomial infections;
micro-organisms previously considered unusual which now show a gradual increase in isolation rate.
Class 1 micro-organisms are represented by Staphylococcus aureus and Pseudomonas spp. Staphylococcus aureus has always been one of the main bacterial causes of mortality: our survey shows that the greatest danger is represented by the steady increase in isolation rate. We were also able to ascertain the extraordinary resistance that these micro-organisms have acquired to the various antimicrobial agents that periodically have been introduced into clinical practice (4, 16).
This resistance was initially limited to penicillin but is now extended to penicillinase-resistant penicillins such as methicillin (1, 3, 5, 8, 15). Pseudomonas spp. likewise showed a considerable increase in isolation rate and, even more alarmingly, a marked antibiotic-resistance to various classes of chemoantibiotics (6, 12, 13).
Our survey includes among Class 2 micro-organisms the coagulase-negative Staphylococci one considers that until a few years ago they did not figure among the aetiological agents in the routine pathological pictures of burn patients. Our statistics show that their isolation rate tends to be increasing steadily, and that these germs show particular resistance to antimicrobial agents. These considerations suggest the conclusion that although the Corynebacterium spp. have been found only in low percentages they should in no way be underestimated.
| | |
| --- | --- |
| | |
| Fig. 1 RELATIONSHIP BETWEEN STAPHYLOCOCCUS Spp., PSEUDOMONAS Spp. AND ENTEROBACTERIACEAE, CORYNEBACTERIUM Spp. | Fig. 2 COMPARISON BETWEEN THREE TYPES OF MICRO-ORGANISMS ISOLATED: STAPHYLOCOCCUS Spp., PSEUDOMONAS Spp., CORYNEBACTERIUM Spp. |
| | | | | | |
| --- | --- | --- | --- | --- | --- |
| YEARS | TOTAL | STAPHYLOCOCCUS AUREUS N' | % | STAPHYLOCOCCUS EPIDERMIDIS N' | % |
| 1982 | 70 | 70 | 100 | - | - |
| 1983 | 59 | 59 | 100 | - | - |
| 1984 | 43 | 42 | 98 | 1 | 2 |
| 1985 | 30 | 30 | 100 | - | - |
| 1986 | 52 | 45 | 86 | 7 | 14 |
| 1987 | 35 | 29 | 83 | 6 | 17 |
| TOTAL | 289 | 275 | 14 | - | - |
Tab. 4 PERCENTAGES OF STAPHYLOCOCCUS ISOLATION

Tab. 5 - NUMERICAL PRESENCE OF ENTEROBACTERS AMONG ALL MICRO-ORGANISM ISOLATED
RESUME. Les Auteurs ont analysé l'évolution des souches bactériennes pendant la période 1982/87 observées dans les tampons des patients brûlés, ainsi que les rélations éventuelles entre elles. Les résultats indiquent que les micro-organismes observés plus fréquemment étaient le Staphylocoque spp. et le Pseudomonas spp.. Les infections causées par le Staphylocoque spp. en 1982 représentaient plus de 60% de tous les cas, avec une réduction dans les années suivantes jusqu'à 1985 (moins de 40%), et avec des valeurs stables (4 1 %) en 1986 et 1987. Pseudomonas spp. arrivait au niveau plus haut d'infection (environ 30%) dans les deux années 1982 et 1983, avec le niveau plus bas en 1984 (environ 20%); entre 1984 et 1987 il y a eu une augmentation des infections avec des valeurs contraires à celles du Staphylocoque spp. La fréquence des Ente robacteriaceae était basse, à différence de celle des Corynebacterium spp., qui avaient l'air de s'étendre et de développer une forte résistance aux agents antimicrobiens; ils étaient donc la cause d'infections préoccupantes.
---
BIBLIOGRAPHY
Boyce J.M., White R.L., Spruill E.Y,: Impact of m ethici Ilin -resistant Staphylococcus aureus on the incidence of nosocomial Staphylococcal infection. J. Infect. Disease, 148: 763, 1983.
Campello C., Crevatin E.: Attività in vitro di gentamicina, sisomicina e tobramicina su stipiti di Pseudomonas aeruginosa di provenienza ospedaliera. Ann. Sclavo, 19: n' 3, 437-445, 1977.
Casewell M.W.: Epidemiology and control of the 'modem' methicillin-resistant Staphylococcus aureus. J. Hosp. Infect. (suppl.A, 1-11) 1986,7.
Chokkeveln V., Chondrasekar R, Rolston K. et al.: Activity of eleven antimicrobial agents against methicillin and rifampicin-resistant Staphylococcus aureus. Chemot. 30: 97-101, 1984.
Crossley K., Loesch D., Landesmon B. et at.: An outbreak of infection caused by strains of Staphylococcus aurcus resistant to methicillin and aminoglycosides. J. Infect. Disease 139: 3, 273-279, 1979.
Dalhoff A.: PseudomoDas aeruginosa als Erreger opportunistischer Infektionen. Infection, 15: 1, 69-72, 1987.
Finland M.: Emergence of antibiotic resistance in hospitals 1935-1975, Rev. Infect. Disease 1: 4-24, 1979.
Frongillo R.F., Bianchi P., Moretti A. et al.: Cross-resistance between methicillin and cephalosporins for Staphylococci: a general assumption not true for cefamandole. Antimicr. Agents Chernoter. 25: 666-668, 1984.
Giaquinto E., Giordano B., Noppi R., R., Petracca R., Abbate G.: Osservazioni sulla frequenza di isolamento delle varie specie di Stafilococco e loto antibiotico chemio-sensibilità in vitro. Giomale di Malattie Infettive. 38, 9: 1054-1061, Sett. 1986.
Ippolito G., Albertoni F., Rezza G., lannicelli G., Moretto D., Orefice E., Sonego G., Farchi G., Conti S., Dionigi R.V., Giunta F., Melotti R., Petrini F., Pigna A., Proietti R., Silvestrini G., Tuo P., Valante E., Perucci C.A., Di Raimondo F.: Studio nazionale di incidenza delle infezioni nosocomiali in unità di Terapia Intensiva - Risultati preliminari. In Moretti: "Le infezioni nosocorniali in terapia intensiva", III Corso Internazionale di Aggiornamento organizzato dall'Istituto di Puericultura e Medicina Neonatale dell'Università di Parma -Salsomaggiore Terme, 1985 - Oppici Ed. Scientifiche, Parma, 1985.
Meakins J.L., Wicklund B., Forse R.A., McLeans A.P.: L'unitA di Terapia intensiva chirurgica: attuali concetti sulle infezioni. Surg. Clin. North Am. 60: 122, 1980.
Moro M.L., Stazi M.A., Marasca G., Greco D., Zampieri A.: National prevalence survey of hospital-acquired infections in Italy. J. Hosp. Infect. 8: 72-85, 1986.
Romoli E., Di Leonardo F., Felici M.: Contributo alla conoscenza degli aspetti genetici di resistenza agli aminoglucosidi in ceppi di Pseudomonas aeruginosa di isolamento ospedaliero. B.M.L. 2, 3: 37-41, 1982.
Stamm W.W., Wunstein R.A., Dixon R.E.: "Comparison of endemic and epidemic nosocomial infections", Yorke Medical Books, Atlanta, 1981.
Thompson R.L., Gabezudo J., Wenzel R.P.: Epidemiology of nosocomial infections caused by methicillin -resistant Staphylococcus aureus. Ann. Int. Med. 97: 309-316, 1982.
Williams A.H., Gruneberg R.N., Webster A. et al.: Teicoplanin in the treatment of infection caused by Gram-positive organisms. J. Flosp. Infect. (suppl. A): 101-103, 1986/7.
---